Embrace the

Evolution of
Workplace
Communication
Experience a transformative software solution designed to streamline your workflow. Simplify tasks, enhance workflow and optimize productivity. Step into a sphere where work becomes a pleasure, efficiency a norm and collaboration a seamless journey.
Redefining

Your Workflow

Efficiency meets simplicity with My Ticket Solutions, designed to reform how you work. Embrace a seamless experience that maximizes productivity and minimizes complexity.
Effortless Communication
Intuitive Workflow
Empowering Collaboration
Employee

Module

Simplify communication and issue redressal within your organisation.
Streamline internal operations.
Pragmatic ticket categorisation.
Robust escalation system.
Vendor

Module

Efficiently manage vendor ops, product orders and quotations.
Manage internal and external vendor operations, with ease.
Seamless vendor communication.
Organise your vendor database, the way you want to.
Client

Module

Maximize client satisfaction with an all-in-one ticketing system, addressing issue resolution, order management and product support seamlessly.
Effective client interfacing platform.
Easy collaboration: assign representatives for clients.
Effortless client database management.
Say Hello to Streamlined Workflows
Eliminate Email Chaos with My Ticket Solutions
One Platform, Many Possibilities
Connect Your Favourite Apps with My Ticket Solutions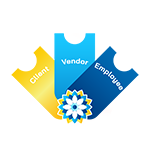 What we Offer
Flexible Solutions for

Growing Businesses
Create and see your tickets get resolved with ease, experience an operational efficiency unlike any other.